"I don't know if there's a line!! It's so . . . light."
"What do you mean, you don't know? I mean, can you see something? If you see anything, that means there is a line!"
"I just, I don't know!!!"
I wanted so badly to see that pink line that I couldn't tell if it was really there or if I willed it into being.
"Okay, bring it with you. I need to see it. And you know what you need? You need writing. I'm bringing you a digital test. There's no guessing."
And so my faithful friend, Heather, did. I brought my original test, a test that held more hope than it did urine, and she analyzed it right there in that high school . . . the place where we worked, but still kind of felt like school girls ourselves.
"Are you kidding me?? There's totally a line there!! It's light but that is most definitely a line! She hugged me and had to run off but said I would feel more sure with the digital test. "Take it", she looked back, beaming!
The very millisecond I could escape to the bathroom on a break, I did. Not easy while giving standardized, state-wide, testing. This just couldn't wait. Everything, my status as a human, was hanging in the balance.
Just steps down that hall, I was administering the TAKS test, but in the solitude of that bathroom, I was becoming a mother.
Because there it was . . . in black, digital letters. It spelled, p-r-e-g-n-a-n-t but it read, mother. Womb. "You now have a womb," it said. "With a real baby in it. And one day, that baby will exit that womb and you'll see him, hold him, and basically be responsible for growing him. Like forever.
Right there. p-r-e-g-n-a-n-t.
And I walked down that hall, into a classroom not of test-takers, but of children. Aisles of children who had once been in excited mothers wombs. I walked through the aisles, looking at their faces like they were foreigners. I monitored, but not an ounce of observation was spent on that test. I couldn't help it. I was a mother now and they were children.
Six years beyond those black letters, beyond a womb quickly shared by two others, and beyond some of the sweetest moments I've known, I am preparing to celebrate my boy's birthday. There will be joy watching his face as he rounds that corner to discover his new bike.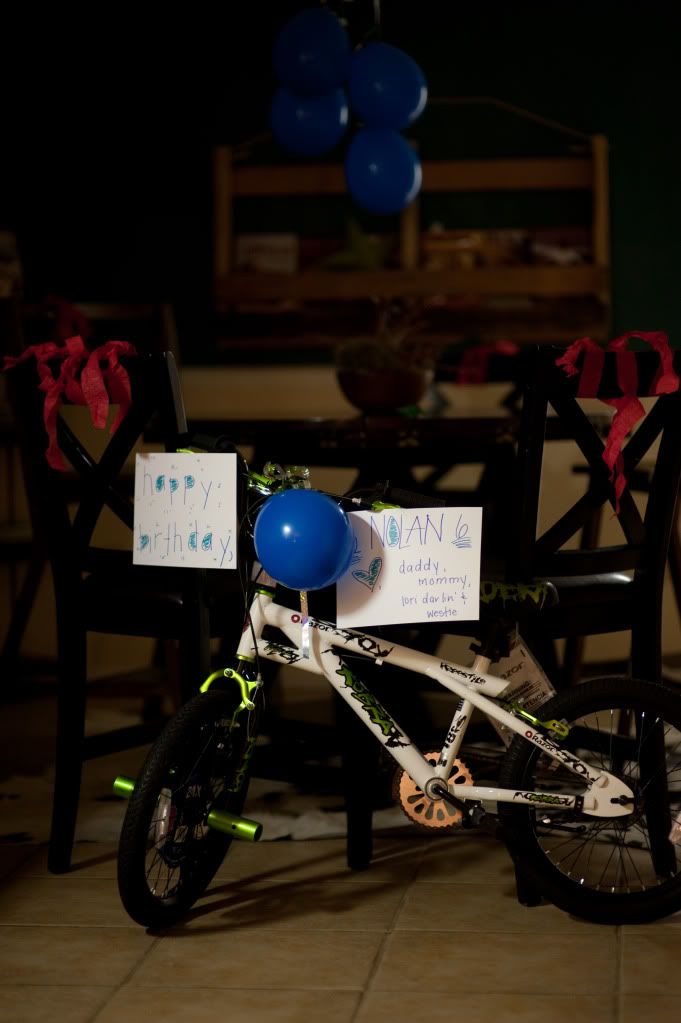 A bike without training wheels. Ridden by a boy without front teeth, without a baby's coo, without a little frog blanket to comfort him at night. A boy with a tender heart, a boy who can tie his shoes, read, and write notes to his former mother's day out teacher. A boy who feels remorse and offers forgiveness, a boy who dreams of being a drummer or a train conductor. A boy who has done so much more than just grow up,
a boy who has made me a mother.
My heart swells so that I can't even swallow the tears.
Today we celebrate significant change.
Happy Birthday, my Nolan.